Star McDade
Sr. Vice President, Audit Services, USAA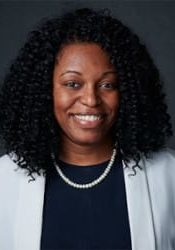 Star McDade is a strategic thinker with a unique point of view driven by her personal intellectual curiosity and informed by a range of professional experiences that help shape her perspective. She leads with integrity, empathy and a passion for continuous growth and development for herself and those around her. Star is an excellent communicator, skilled at working across functions, cultures and geographies. 
 She has proven ability to develop and deliver on high impact initiatives from conception to implementation. And is known to challenge the status quo in support of identifying risks, opportunities and driving decision making to achieve long-term organizational goals at work and in her community. 
 Star joined USAA in November 2021 as Senior Vice President, Audit Services. USAA, a diversified financial services group of companies and leading provider of insurance to US military, veterans and their families, has net worth in the Billions and over 30 thousand employees. In this role, she leads a large team responsible for audit portfolio of assurance activities covering Property & Casualty, Life and International insurance—as well as, staff agencies functions (e.g. HR, Finance, Brand, etc.).  
 Before, USAA Star was Chief Audit Executive (CAE) and Global Corporate Officer for Jones Lang LaSalle (JLL), mid-cap global real estate and investment management services firm with over 90 thousand employees, operating in more than 80 countries. As CAE, she acted as a strategic and trusted advisor charged with developing and implementing the firm's audit strategy aimed at mitigating a wide range of business, financial, compliance, and operational risks, strengthening JLL's internal controls—focused on enhancing and protecting organizational value and achievement of enterprise strategic objectives. 
 Prior to JLL, Star was VP—Portfolio General Auditor (PGA) for American Express Company (AmEx), a large-cap global payments & travel related services company with over 60 thousand employees, operating in more than 40 countries. As PGA she was responsible for leading a team in assurance activities across a uniquely large and diverse audit portfolio. In this role she oversaw internal audit and advisory reviews of key second-line enterprise risk frameworks (Operational risk, Data privacy & Data Governance/Data Quality); global business lines (Global Commercial Services, Global Merchant & Network Services, the Global Servicing Group), as well as the Enterprise Digital Analytics function (including consumer data science & digital experience teams). She held various roles across internal audit in her almost 12 years at the company based in New York, NY. 
 Star also worked in public accounting for more than 5 years at PwC, providing audit and advisory services to investment/asset management and alternative investment firms—based in Houston and New York City. She also spent several years in retail management responsible for in-store operations, compliance and financial reporting for a private regional grocer and a global pharmacy chain. 
 Star is a Certified Public Accountant (CPA) and is a proud HBCU Alumna, having earned a BS and an MBA from Hampton University. She is committed to community service and takes seriously her ability to make a difference actively driving change as a member of the board of directors for national non-profit, A Better Chance, and through various leadership roles as a graduate member of Alpha Kappa Alpha Sorority, Inc.