Keith Evans
President, The Westminster Schools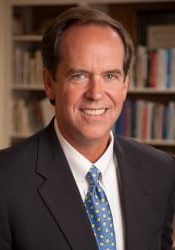 Keith Evans was appointed President of The Westminster Schools in Atlanta, Georgia, in July, 2014. Prior to this role he served as the President and Head of School at The Collegiate School in Richmond Virginia, for 15 years. He began his career teaching and coaching at The McCallie School in Chattanooga, Tennessee, where he also served as the advisor to the school's ABC Scholars. This early experience ignited a passion for A Better Chance and, more broadly, for working to ensure that independent schools fulfill their potential to lead and serve in their communities. 
 Keith graduated from Davidson College with a degree in religion and subsequently earned graduate degrees from Harvard University and The University of Tennessee. He worked with high school students in various capacities while at Davidson and that experience led him to consider teaching and school leadership as a vocation. 
 He said, "As I was completing my undergraduate degree at Davidson, I began to think about teaching as a possible career. The minute I got started as a teacher and a coach, I was hooked. The chance to continue learning for a living, share that intellectual journey with students and be involved in so many other things I loved – especially athletics – was irresistible. There were also parts of an independent school still to discover that were not a big part of my experience as a student – music, theater, visual arts, technology, and others. I really enjoyed becoming a student again in these areas and have developed a real sense of appreciation for the diversity of interests and talents that come together in a great school." 
 Keith's teaching interests have ranged from religious studies to ethics to psychology and neuroscience to leadership development. As he shared, "Over time, the courses I have taught reflect how my ideas about teaching and learning have evolved from single discipline classes to interdisciplinary courses that have even incorporated elements of economics, government and public policy. I have always appreciated the way that working in education encourages – and pushes – each of us to keep growing alongside our students." 
 Keith is a two time Fellow of the National Endowment for the Humanities and has enjoyed serving on various professional and community boards throughout his career. His focus in community service has been around addressing issues of homelessness and affordable housing. To that end, he is currently the Chair on the board of The Gateway Center and on the board of Georgia Works, both based in Atlanta. 
 The Westminster Schools is an independent school leader in the Atlanta area. Westminster has been a member school for more than 40 years and received the Access Award from A Better Chance in 2013. It currently enrolls the nation's largest ABC cohort with over 50 Scholars.