Ekene Ezulike
Global Head of Corporate Services, Morgan Stanley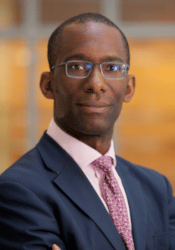 Ekene Ezulike is a Managing Director of Morgan Stanley and is the Global Head of Corporate Services. In this role he manages, Corporate Real Estate & Facilities Management, Corporate Travel, Corporate Security and Corporate Information Management. He is accountable for services with a total cost of ~$2bn.
Prior to joining Morgan Stanley, in September 2017, Ekene held a number of leadership roles at Deutsche Bank (DB) over a period of ten years. Most recently he was the Chief Procurement Officer of Deutsche Bank. In this role he ran strategic sourcing, source to pay operations, accounts payable, vendor and contract management, third party risk management and developed the Bank's outsourcing strategy and associated governance framework.
Previously, Ekene was the CFO for Infrastructure within DB and in this role he managed the finances of all infrastructure functions (a ~€9bn cost base) and was a member of the Technology & Operations Executive Committee. Other roles within DB included: the Head of Strategic Sourcing; and Chief Change Architect for Corporate Services – in this role he designed and implemented a new operating model for the global real estate function.
Before joining DB, Ekene was the Head of Services Management & Logistics Transformation at Santander UK. In this role he created and managed a new function which consolidated, outsourced and managed a number of back office business processes, including: print, distribution, document management services. He also managed two bank-wide expense cost categories which supported the delivery of integration benefits post acquisition of Abbey National by Santander.
Ekene started his career as a management consultant, with Ernst & Young and subsequently Cap Gemini, focused on re-engineering, business transformation and cost reduction in retail banking and general insurance.
Ekene has a strong academic background, with an MEng in Civil Engineering (1st class) and a PHD in construction industry strategy.
Ekene is married with three children, two boys and a girl.